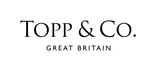 Main materials
Brass

External / internal
Interior locations

Infill options
Horizontal bars
Ornamental
Panel
Round bar
Square bar
Vertical bars

Fixed / portable
Fixed

Suitability
Landings
Staircases

Topp & Co offers individually designed balustrades in brass, made to enhance their setting. Both contemporary and traditional styles can be produced, working from specifiers drawings or developing a concept.
Balustrades are created for projects ranging from stately houses to commercial developments and family homes. They are often the focal point of a setting.
As a major architectural feature, balustrades provide an opportunity for creative expression, such as incorporating a dramatic work of art, a lavish grand statement piece or a simple, elegant and uncluttered design.
The company is a specialist in bespoke detailing, and has developed a technique for the cost effective production of custom moulding sections in its own rolling mill.
Related entries
Many properties and homes, particularly in regard to historic buildings, require the fixing of new handrails, balustrades and staircases. Topp & Co. offers a new approach by providing individual handrail sections designed to enhance their setting. We offer a complete service including design, make and installation. Samples, technical information...

Product, 05 February 2018
Also by TOPP & CO
More products on BUILDING DESIGN
TOPP & CO address and contact details
TOPP & CO Ltd
Unit 5
The Airfield Industrial Estate
Tholthorpe
York
YO61 1ST
Tel: 01347 833173
View on map