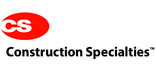 Sector
Education

Project type
New build

Services provided
Product / system manufacture
Product / system supply
Installation

Project location
South West England

Client
Bristol University

Consultant
Sheppard Robson

Context
Bristol University's Life Sciences building houses modern teaching and research laboratories, as well as a collection of break-out spaces, seminar rooms and social spaces.
In order to comply with local planning restrictions, the architects, Sheppard Robson, designed the Bristol Life Sciences building to appear as two separate buildings, with the teaching block on one side and the laboratory block on the other.
A central atrium connects the two blocks with glass walkways between floors 1 to 3.
Expansion joint covers were required at one end of the glass walkways to accommodate building movement via settlement or expansion and contraction.
Work undertaken
CS were able to modify an existing expansion joint cover - the APF-SM - to suit the design requirements of the atrium. This is a surface mounted floor joint cover ideal for situations with large multi-directional movement requirements. It features a slip resistant, aluminium surface, offering a smooth transition between the adjacent carpet and the glass floor.
A cold smoke seal was also required, which CS were able to supply in the form of a polyethylene membrane, a product usually used as a moisture barrier.
Related entries
The CS range of metal expansion joint covers is suitable for a wide range of applications, including shopping centres, hospitals and airports and schools. These highly durable, aluminium covers are available in a range of sizes, surface or recess mounted options and in standard and heavy duty designs. Suitable for most floor finishes, they offer...

Product, 28 October 2016
More projects by Construction Specialties
View all
Also by Construction Specialties
Construction Specialties address and contact details
Construction Specialties (UK) Ltd
1010 Westcott Venture Park
Westcott
Aylesbury
HP18 0XB
Tel: 01296 652800
Fax: 01296 652888
View on map