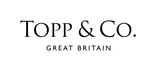 Many properties and homes, particularly historic buildings, require the fixing of new handrails. They are commonly installed in an institutional or elderly style, but Topp & Co offers a new approach by providing individual designs in mild steel, made to enhance their setting.
Mild steel can be fabricated and finished to resemble traditional ironwork, which is much more costly to reproduce. Topp & Co is a specialist in the manufacture of genuine wrought iron metalwork, also known as puddled iron, and is therefore well placed to produce steel handrails resembling this material.
The company is committed to bespoke detailing, and has developed a technique for the cost effective production of custom moulding sections in its own rolling mill. Mild steel is a material that lends itself well to this treatment.
Handrails may be free standing, supported by uprights, or wall fixed. While still governed by building regulations, handrails are distinguished from balustrades by the fact they do not guard a drop.
Related entries
Topp & Co's range of large manganese bronze handrails includes a total of four shapes, with new profiles having been recently added to the range. Many properties and homes, particularly historic buildings, require the fixing of replacement handrails, balustrades and staircases. Topp & Co offers a new approach to this by providing individual...

Product, 05 February 2018
Also by TOPP & CO
More products on BUILDING DESIGN
TOPP & CO address and contact details
TOPP & CO Ltd
Unit 5
The Airfield Industrial Estate
Tholthorpe
York
YO61 1ST
Tel: 01347 833173
View on map