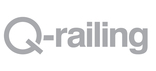 20 February 2018
In April 2018, Q-Railing will be launching a revolutionary mounting system, which will change the way glass railings are installed throughout the world. Clamping glass infills is going to be easier than ever before.
Launch
Q-railing will present the new mounting system to the world for the first time at the FENSTERBAU FRONTALE trade fair (stand 317, hall 7A, 21-24 March 2018, Nuremberg, Germany). People who can't attend the fair will still be able to participate: on 21 March 2018 at 14:00 hours, the launch can be watched via a live stream on Q-railing's Facebook page.
In the run-up to the actual launch, Q-railing are going to reveal pieces of information about it, one insight at a time. Anyone who would like to be sure of receiving these insights can subscribe to them via social media and at www.q-railing.com.
The importance of the launch cannot be underestimated. 'This is groundbreaking. It's so different to anything that's out there in the world of railings. This innovation will allow installers to secure a glass panel with one simple tool and the smooth movement of one hand,' says Robin Zoutewelle, Product Manager at Q-railing. 'We never compromise on safety; the Q-disc System secures the glass as firmly as ever.'
Availability
The new mounting system will be available from April 2018. It will appear in Q-railing's 2018 / 2019 catalogue and in the webshop.
Also by Q-railing
Q-railing address and contact details
Q-railing
Unit 706-707
Centre 500
Lowfield Drive
Newcastle-under-Lyme
ST5 0UU
Tel: 01782 711 676
Fax: 0800 781 4246
View on map