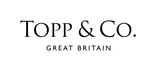 Topp & Co can produce manganese bronze doors with a high level of detail and craftsmanship that is only possible when combined with CAD and modelling technology.
Exquisite detail
Topp & Co's method of producing the casting patterns directly from a CAD design, together with the traditional skills of their bronze founders, guarantees the finest possible resolution of detail in finished castings. The creative process is improved by removing traditional obstacles and uncertainties associated with the hand-crafted interpretation of a design into a casting pattern. Topp & Co's system ensures clients' vision are realised from inspiration right down to the finished, exquisite detail. This level of creative freedom and accuracy enables doors to become a more personal design statement.
Quality
The versatility, beauty and longevity of bronze present challenges to any designer in matching the quality of the design to the quality and timelessness of the material. Topp & Co's unique and patented system features several manganese bronze thermal break profiles and can accommodate double and triple glazed units. Solid bronze castings can also be incorporated to emphasise the elegance and quality of the doors.
Personalised design
Topp & Co offers a complete service from concept design to site installation and can work with architects, designers to bring ideas to life. Using the latest 3D modelling software, the client will be able to visualise the finished product in its environment before committing to manufacturing the doors. The moulds for the casting are produced directly via CAD/CAM process, eliminating the intermediate time-consuming and variable process of handcarving moulds.
Profiles
Two basic types of thermal break profile are available: Contemporary and Prestige, to which a variety of sections can be added to create a unique profile.
The Contemporary profile is a simple yet stylish design with straight lines and sharp corners.
The Prestige profile offers limitless opportunities to add personalised decorative detailing in the form of other sections to clients' tastes.
Also by TOPP & CO
More products on BUILDING DESIGN
TOPP & CO address and contact details
TOPP & CO Ltd
Unit 5
The Airfield Industrial Estate
Tholthorpe
York
YO61 1ST
Tel: 01347 833173
View on map