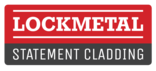 | | |
| --- | --- |
| Soffit board type | Standard |
| Material | Aluminium |
| Dimensions (mm) | Bespoke Design |
Located at the junction of two primary elements, the eaves of a building are an important but often overlooked feature. While masking the junction of wall and roof, any eaves system chosen must be able to neatly overcome building tolerances and, since these areas are invariably not easily accessible, be relatively maintenance-free.
This critical interface demands careful attention in both detailing and the selection of materials. Lockmetal offers the specifier practical advice on fascia and soffit installations backed by a wide and adaptable product range to suit virtually any eaves configuration.
Related entries
Lockmetal has a track record of providing quality and innovative design responses to the need for a rainscreen cladding system, utilising aluminium composite material panels (ACM) or pressed aluminium panels. A wide range of colours and finishes are available and the system can have secret or exposed fixings and minimal or expressed joints. A...

Product, 02 March 2018

The performance specification for St John House in Bridgwater called for low maintenance external finishes in matching colours. Aluminium was chosen to enable the windows, curtain walling, eaves and rainwater goods to share a common polyester powder finish, which was available in a wide range of standard shades and gloss levels...

Projects, 01 March 2018

Oxford Brookes was building new accommodation blocks for students. The architect had specified a secret fix solution for the roof soffits. Secret fix detailing requires careful design and manufacturing processes. Even more importantly installation must be of top quality. Deficiencies in this area can easily lead to the joints opening and the...

Projects, 01 August 2017
Also by Lockmetal
Lockmetal address and contact details