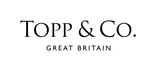 Main materials
Stainless steel

External / internal
Interior locations

Infill options
Horizontal bars
Ornamental
Panel
Vertical bars

Fixed / portable
Fixed

Suitability
Balconies
Landings
Parapets
Staircases
Walkways

Topp & Co offers individually designed balustrades in stainless steel.
Balustrades are created for projects range from private houses to commercial developments. They are often the focal point of a setting.
As a major architectural feature, balustrades provide an opportunity for creative expression, such as incorporating a dramatic work of art, a lavish statement piece or a simple, elegant and uncluttered design.
Working from specifiers drawings or developing a concept, Topp & Co can produce bespoke designs with specially cut infill sections and detailing. The company has developed a technique for the cost effective production of custom moulding sections in its own rolling mill.
Also by TOPP & CO
More products on BUILDING DESIGN
TOPP & CO address and contact details
TOPP & CO Ltd
Unit 5
The Airfield Industrial Estate
Tholthorpe
York
YO61 1ST
Tel: 01347 833173
View on map