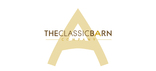 03 May 2018
Watch Linda Barker's new show The Home Game, ask the question lots of home owners ask 'how much will my property increase in value if I add an outbuilding' ?
See The Classic Barn Company put this question to the test.
Please click on the "Visit Website" link opposite to view the video on our Youtube channel.
Classic Barn Company address and contact details
The Classic Barn Company
'Oaklands'
6 Avery Fields
Allbrook Village
Eastleigh
SO50 4BY
Tel: 0844 800 0708
View on map