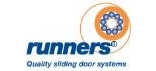 04 December 2017
Tommafold bifold door hinges are manufactured from high grade stainless steel which has passed stringent 240 hour salt spray testing. Recently we have introduced a further enhancement with a passivation process. This removes any tiny particles or residue on the surface which could potentially corrode in exposed or coastal areas. This type of corrosion is common with inferior hardware giving the appearance of rusting. This additional passivated process gives Tommafold hardware a smooth, uniform finish with maximum corrosion protection.
Daniel Wells, Sales Director at Runners Sliding Door Systems, commented "We are continuously developing the Tommafold product to ensure we stay ahead and offer our customers a superior solution".
Manufactured using high grade stainless steel, Tommafold is available in black, satin stainless, polished stainless and polished brass finishes, allowing the doors to be used in a variety of settings.
Tommafold has a patented, superior hinge handle which is ergonomically designed and aesthetically pleasing. Tommafold is built to last and carries a 10-year warranty.
Related entries
Runners Sliding Door Systems

The Tommafold system provides high build quality with a flexible and pracical system that delivers simple operation, and large load capacities whilst being easy to fit and adjust. Smooth handles, compact track and beautiful flush bolts are only some of the features that make this system a class apart. The Tommafold system is available in two...

Product, 04 April 2018
More product news by Runners Sliding Door Systems
View all
Also by Runners Sliding Door Systems
Runners Sliding Door Systems address and contact details
Runners Sliding Door Systems
Signal Hill
Lenborough
Gawcott
Buckingham
MK18 4BU
Tel: 01280 822288
Fax: 01280 813024
View on map